Harp Gifts Under $30
Here are some gift suggestions from $10 to $30.
Harp CDs and music books also make wonderful gifts!
We are phasing out all of our Gift Items. Once our stock has been sold, we will not be ordering more.
Be sure to buy your favorite Gift Items now while they are still in stock, so you will not be disappointed!

View Product »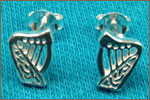 View Product »
View Product »