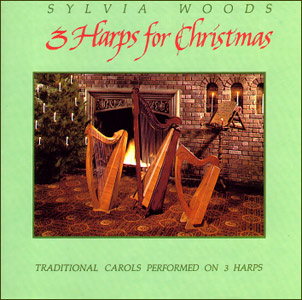 3 Harps For Christmas Volume 1 CD by Sylvia Woods
Recorded by world-renowned harpist Sylvia Woods these lovely Christmas carols are performed on three special harps: a nylon-strung Neo-Celtic harp, a wire-strung ancient Celtic harp, and a Triple-strung harp. Each carol is performed by Sylvia on 1, 2, or 3 harps, with no other accompaniment. Volume 1 contains 28 traditional carols. Some are well-loved, others are lesser known.
Sylvia's medley arrangement of "Angelical Hymn" and "Twelfth Night Song" is available on sheet music.
Save money when you buy Volume 1 and Volume 2 together as a set below.
Or, save 10% by purchasing all three of Sylvia Woods' recordings in her Gift Pack Set.
---
Want it now? This music is also available as mp3 downloads.
---
Click on the next to a track to listen to a preview.
Related Products
| | | |
| --- | --- | --- |
| $9.95 | | |