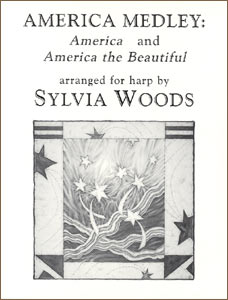 America Medley: America & America the Beautiful sheet music by Sylvia Woods
Item: 5592b

For lever or pedal harp.
Sylvia Woods' medley of two patriotic songs is perfect for school assemblies, meetings, festivals, churches, and national holidays. It combines 2 well-known favorites: America ("My country 'tis of thee") and America The Beautiful ("Oh beautiful, for spacious skies"). It begins in the key of D (2 sharps) and ends in the key of G (1 sharp), with several sharping lever or pedal changes. Fingerings, chord symbols and lyrics are included. 4 pages, for advanced beginner and intermediate players.
---
Want it now? This music is also available as a PDF download.
---
Click on the to see a sample of the first few lines of music.
Related Products
| | | |
| --- | --- | --- |
| $4.95 | | |