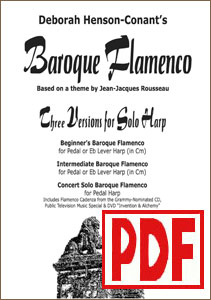 Baroque Flamenco by Deborah Henson-Conant PDF Download
Item: p7289

This product is a download, and will not be shipped to you. After you check out, you will receive an email thanking you for your order from orders@harpcenter.com with the link(s) that will take you to your download(s). This e-mail will be sent to the "Ship To" email address that you specify during checkout, so be sure to input the correct "Ship To" e-mail address. Please add orders@harpcenter.com to your approved e-mail list. If you do not receive an e-mail within a few minutes after you place your order, please check your spam folder.
Please scroll to the bottom of the email to see the links to download. You can access your downloads by clicking here and entering your order number, email address, and billing zip code.
If you created an account with us, you can also find your downloads by going to "My Account" and clicking on the "Downloads" link.
Once you receive the e-mail, please click the link(s) and print your PDF(s) as soon as possible. The link(s) will expire after 30 days. If you are unable to print your PDFs during that time, please contact us and we will assist you. You are authorized to print 2 copies for your own personal use.
There will be no shipping charge if all of the items you are ordering are downloads. Just choose the "No Shipping Charge" option on the shipping dropdown list during checkout. If you order regular (non-downloaded) products at the same time, the shipping charges will be for those additional items.
Your respect of the copyright laws will help support the musicians and arrangers who created this work, and will encourage more harp music to be produced in the future. Please do not make multiple copies to pass on to others. You can help keep downloadable harp music viable and available by encouraging your students, friends and relatives to purchase their own copies. Thank you for your assistance in this endeavor.
If you have a problem with your download, please contact us at downloads@harpcenter.com for assistance. Please note that downloads are not "returnable."
This product is a PDF download, which you will print from your computer. We do not sell the regular printed music. It is only available here in this PDF download format.
This PDF includes 3 SOLO harp versions for lever or pedal harp.
Baroque Flamenco is Deborah Henson-Conant's unique, flamboyant extension of Jean-Jacques Rousseau's "Minuet in A Minor," with a flamenco guitar flair. This PDF download includes 3 versions of the piece (advanced beginner, intermediate, and concert), along with 11 pages of Deborah's extensive notes about the piece, and how to perform the large variety of harp techniques used in the music. The versions for advanced beginners and intermediate players are 5 pages each, and playable on lever harps tuned to E-flat, or pedal harps. The advanced version is 9 pages, and is only for pedal harps. No matter what your playing level, this piece will be a challenge. But, it is definitely worth it, and is guaranteed to make you a better player! There are a total of 38 pages in this PDF.
As Deborah explains, "This piece isn't easy to sight-read, because of the many special techniques and notations. Once you get familiar with what's on the page, it's not as hard as it looks (well . . . some of Version 3 really IS as hard as it looks!). . . . This manuscript is a Guideline . . . not a manifesto. It's the blueprint of an idea. So when you play the piece, make it your own until it is an expression of your own passion."
Deborah also sells versions of this piece for harp ensemble and also for harp an orchestra. You can purchase these versions directly from her by clicking on the links below. They are NOT for sale here on this site.
Ensemble Version of Baroque Flamenco
Concerto Version of Baroque Flamenco with Piano Reduction
This PDF includes 3 SOLO harp versions for lever or pedal harp.
Click on the to see a sample of the first few lines of music.
Related Products
| | | |
| --- | --- | --- |
| $19.95 | $19.95 | |