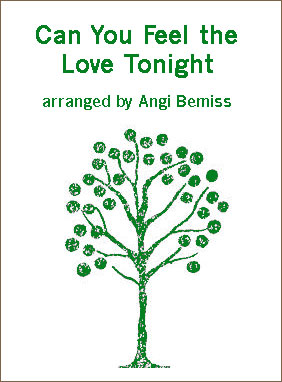 Can You Feel the Love Tonight sheet music arranged by Angi Bemiss
Item: h7374b

For lever or pedal harp.
Can You Feel the Love Tonight is the beautiful love theme from The Lion King. It was composed by Elton John, with lyrics by Tim Rice. Angi Bemiss' arrangement is fun to play with syncopated rhythms. There are no sharping lever changes required in this piece. Lyrics and chord symbols are included, but no fingerings.

Angi's unique sheet music layout gives you 2 versions of the same piece. The 2-page "Key of C" version is on one side of the 11" x 17" sheet, and the 2-page "Key of E-flat" version (in 3 flats) is on the back. Since you get BOTH versions, you'll have a perfect arrangement, no matter which way you tune your lever harp!

The Key of C version goes down to the G that is 10 notes below middle C, and the lowest note in the E-flat version is the B-flat, 2 octaves below middle C.
Please note: there is no cover page on this sheet music. The image shown here was created for this website, but does not appear on the music.
Click on the to see a sample of the first few lines of music.
Sample of the "Key of C" version: