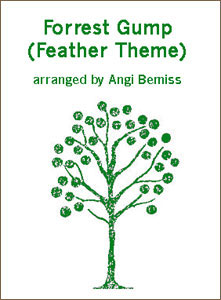 Forrest Gump Feather Theme sheet music arranged by Angi Bemiss
Item: h7364b

For lever or pedal harp.
Alan Silvestri's Feather Theme is heard throughout the movie Forrest Gump. You may not remember what this playful theme sounds like, but I'm certain that once you start to play it, you'll recognize it right away. Angi Bemiss' arrangement for advanced beginning harp players features repeated notes in the bass, with the right hand playing the single-line melody with some 2-note chords. There are no sharping lever changes required, and no fingerings. Chord symbols are included.

Angi's unique sheet music layout gives you 2 versions of the same piece. The 2-page "Key of C" version is on one side of the 11" x 17" sheet, and the 2-page "Key of E-flat" version (in 3 flats) is on the back. Since you get BOTH versions, you'll have a perfect arrangement, no matter which way you tune your lever harp!

The Key of C version goes down to the C that is 2 octaves below middle C, and the lowest note in the E-flat version is the low E-flat.
Please note: there is no cover page on this sheet music. The image shown here was created for this website, but does not appear on the music.
This YouTube still video features the music from the movie soundtrack.
Click on the to see a sample of the first few lines of music.
Sample of the "Key of C" version: