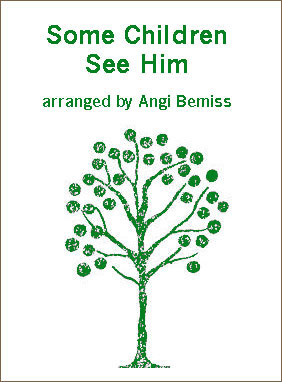 Some Children See Him sheet music arranged by Angi Bemiss
Item: h7378b

For lever or pedal harp.
This lovely Christmas carol, with music by Alfred Burt and lyrics by Wihla Hutson, tells how children throughout the world imagine Jesus as someone who looks like them. "The children in each diff'rent place will see the Baby Jesus' face like theirs, but bright with heav'nly grace." Angi Bemiss' arrangement features off-beat sixteenth note patterns in the left. The second verse is played an octave higher. There are no sharping lever changes required in this piece. Lyrics and chord symbols are included, but no fingerings.

Angi's unique sheet music layout gives you 2 versions of the same piece. The 2-page "Key of C" version is on one side of the 11" x 17" sheet, and the 2-page "Key of E-flat" version (in 3 flats) is on the back. Since you get BOTH versions, you'll have a perfect arrangement, no matter which way you tune your lever harp!

The Key of C version goes down to the C that is 2 octaves below middle C, and the lowest note in the E-flat version is the low E-flat.
Please note: there is no cover page on this sheet music. The image shown here was created for this website, but does not appear on the music.
Click on the to see a sample of the first few lines of music.
Sample of the "Key of C" version: