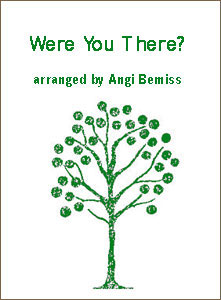 Were You There? sheet music arranged by Angi Bemiss and Jan Pierce
Item: h7370b

For lever or pedal harp.
The traditional African-American spiritual Were You There? (When They Crucified My Lord) sounds lovely on the harp. This intermediate lever (or pedal) harp arrangement by Angi Bemiss and Jan Pierce features cross-hand chords and broken arpeggios in the first verse. The second verse is more dramatic, with 3-note chords in each hand, and 2 very easy sharping lever changes. The lyrics are included, but no fingerings.

Angi's unique sheet music layout gives you 2 versions of the same piece. The 2-page "Key of C" version is on one side of the 11" x 17" sheet, and the 2-page "Key of E-flat" version (in 3 flats) is on the back. Since you get BOTH versions, you'll have a perfect arrangement, no matter which way you tune your lever harp!

The Key of C version goes down to the C that is 2 octaves below middle C, and the lowest note in the E-flat version is the low E-flat.
Please note: there is no cover page on this sheet music. The image shown here was created for this website, but does not appear on the music.
Click on the to see a sample of the first few lines of music.
Sample of the "Key of C" version: