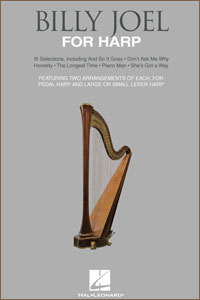 Billy Joel for Harp: 10 Selections for Lever and Pedal Harp arranged by Emily Brecker
Item: 4392b

For lever or pedal harp.
This fun book of 10 Billy Joel favorites is for harp players of almost any level, because there are two arrangements of each title. The first, at the intermediate / advanced level, is for pedal harps and large lever harps tuned to E-flat. The second, at the beginner / intermediate level, is intended for small lever harps tuned to C, but can be played on any harp. These easier arrangements contain few, if any, lever changes. Harpist Emily Brecker has kept the arrangements as close as possible to Billy Joel's original songs, as performed on his recordings.

There are specific tuning instructions for lever harps in the top left corner of some arrangements. Lever changes are shown with diamond note heads. Pedal markings are located below the bass staff. There are just a few fingerings. Emily has included a useful chart of the symbols and abbreviations she uses in the book. 84 pages of music, paperbound.
Click on the to see a sample of the first few lines of music.
And So It Goes
Don't Ask My Why
I've Loved These Days
An Innocent Man
The Longest Time
Piano Man
She's Got a Way
Summer, Highland Falls
You're My Home