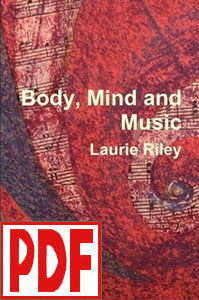 Body, Mind and Music by Laurie Riley PDF Download
Item: p7649
This product is a download, and will not be shipped to you. After you check out, you will receive an email thanking you for your order from orders@harpcenter.com with the link(s) that will take you to your download(s). This e-mail will be sent to the "Ship To" email address that you specify during checkout, so be sure to input the correct "Ship To" e-mail address. Please add orders@harpcenter.com to your approved e-mail list. If you do not receive an e-mail within a few minutes after you place your order, please check your spam folder.
Please scroll to the bottom of the email to see the links to download. You can access your downloads by clicking here and entering your order number, email address, and billing zip code.
If you created an account with us, you can also find your downloads by going to "My Account" and clicking on the "Downloads" link.
Once you receive the e-mail, please click the link(s) and print your PDF(s) as soon as possible. The link(s) will expire after 30 days. If you are unable to print your PDFs during that time, please contact us and we will assist you. You are authorized to print 2 copies for your own personal use.
There will be no shipping charge if all of the items you are ordering are downloads. Just choose the "No Shipping Charge" option on the shipping dropdown list during checkout. If you order regular (non-downloaded) products at the same time, the shipping charges will be for those additional items.
Your respect of the copyright laws will help support the musicians and arrangers who created this work, and will encourage more harp music to be produced in the future. Please do not make multiple copies to pass on to others. You can help keep downloadable harp music viable and available by encouraging your students, friends and relatives to purchase their own copies. Thank you for your assistance in this endeavor.
If you have a problem with your download, please contact us at downloads@harpcenter.com for assistance. Please note that downloads are not "returnable."
This product is a PDF download, which you will print from your computer. We do not sell the regular printed book. It is only available here in this PDF download format.
Music effects the body/mind, and the body/mind of the player affects the playing of music. Laurie Riley discusses our cultural relationship with music, how the brain learns it, how we practice it, how we perform it, how we listen to it, how we teach it, and finally, how it is used in purposely therapeutic ways. This is a revised and updated edition (2010) incorporating the addition two of Laurie's previous books: Nothing Less Than Your Best and The Art of Teaching.
This complete guide for all musicians includes:

Music and the Brain:
Music is a Language
Practice As Passion
Aural, Kinesthetic and Visual Learning
Focus and Relaxation
Expression
Overcoming Blocks to Musical Progress
What is Talent
Memorizing

How We Learn Music:
The Five ways of Learning
Basic Music Terminology
Concert Pitch
Harmonics
Key Changes and the Succession of 5ths
The Art of Teaching
Ergonomics and the Musician's Body

Music as Therapy:
Service vs. Performance
Using Modes and Other Scales
The Human Voice
Improvisational Music
Beneficial Resonant Frequencies
Entrainment
Psychoneuroimmunology/Audioanalgesia
Effects of Toning and Chant
Appropriate Instruments
Acoustic vs. Electric/Electronic Music
Healing Modalities Chart
Music in Medical Settings
Clinical Deportment and Ethics
Terminology of Healthcare Music
and much more!
This PDF is 134 pages long. The color cover is not included in the PDF.