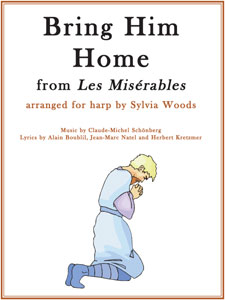 Bring Him Home sheet music from Les Miserables arranged by Sylvia Woods
Item: 5576b

For lever or pedal harp.
This beautiful, emotional, prayerful entreaty from Les Misérables has been arranged for lever or pedal harp by Sylvia Woods. It is in the key of G (1 sharp) with several D# lever changes. Fingerings and lyrics are included, as well as lever and pedal changes. This 4-page arrangement is for lower intermediate to intermediate players. The range required is 22 strings, from the G that is 10 strings below middle C, up to the G 11 strings above middle C. The final chord has a higher B, but it can be omitted if necessary.
---
Want it now? This music is also available as a PDF download.
---
Click on the to see a sample of the first few lines of music.
Related Products