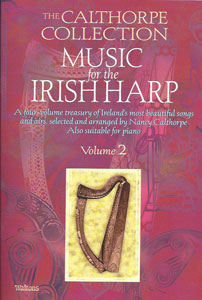 Music for the Irish Harp, Vol. 2 book by Nancy Calthorpe - $19.95
Buy 4 or more and save $1.00 per item
Item: 7952b


For lever or pedal harp.
This is the second of four volumes of Ireland's most beautiful songs and airs, selected and arranged by Nancy Calthorpe (1914 - 1988). Nancy was a well-respected harp teacher and arranger for the Irish harp in Ireland during the second half of the 20th century.
Volume 2 includes 5 harp solos, 4 of which are pieces by O'Carolan. The remaining 14 songs are for voice (or a melody instrument) with harp accompaniment. These accompaniments are not meant to be played as harp solos, as they do not include the melody.
The pieces are in keys ranging from 3 sharps to 4 flats, and only a few have sharping lever changes with the music. The pieces in 4 flats could also be played by tuning the harp in 3 sharps. A few fingerings are included. 19 pieces, 48 pages, paper-bound.
Click on the to see a sample of the first few lines of music.
A Chuaichin Bhinn Dilis (Sweet Faithful Cuckoo)
Bridget Cruise - harp solo
An Chuilfhionn
Domhnall Ban
John O'Connor
Kitty of Coleraine
The Leprechaun
The Mitcher
Mo Leanbh Beag Fein (My Own Little Child)
Mo Theaghlach
Nora
Phil the Fluter's Ball
Planxty Drury
Pleasant Sweet Birdies
Seoithin Mo Linbhin (Hush a Bye Baby)
She Moved Through the Fair
The Snowy Breasted Pearl - harp solo
Related Products