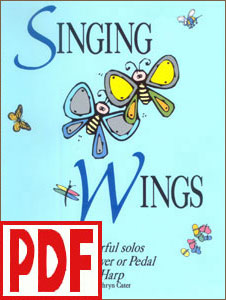 Singing Wings by Kathryn Cater PDF Download
Item: p7213

This product is a download, and will not be shipped to you. After you check out, you will receive an email thanking you for your order from orders@harpcenter.com with the link(s) that will take you to your download(s). This e-mail will be sent to the "Ship To" email address that you specify during checkout, so be sure to input the correct "Ship To" e-mail address. Please add orders@harpcenter.com to your approved e-mail list. If you do not receive an e-mail within a few minutes after you place your order, please check your spam folder.
Please scroll to the bottom of the email to see the links to download. You can access your downloads by clicking here and entering your order number, email address, and billing zip code.
If you created an account with us, you can also find your downloads by going to "My Account" and clicking on the "Downloads" link.
Once you receive the e-mail, please click the link(s) and print your PDF(s) as soon as possible. The link(s) will expire after 30 days. If you are unable to print your PDFs during that time, please contact us and we will assist you. You are authorized to print 2 copies for your own personal use.
There will be no shipping charge if all of the items you are ordering are downloads. Just choose the "No Shipping Charge" option on the shipping dropdown list during checkout. If you order regular (non-downloaded) products at the same time, the shipping charges will be for those additional items.
Your respect of the copyright laws will help support the musicians and arrangers who created this work, and will encourage more harp music to be produced in the future. Please do not make multiple copies to pass on to others. You can help keep downloadable harp music viable and available by encouraging your students, friends and relatives to purchase their own copies. Thank you for your assistance in this endeavor.
If you have a problem with your download, please contact us at downloads@harpcenter.com for assistance. Please note that downloads are not "returnable."
This product is a PDF download, which you will print from your computer. We do not sell the regular printed music. It is only available here in this PDF download format.
For lever or pedal harp.
Here are eight original compositions in Kathryn's inspirational style for the young student. These pieces inspire a wide variety of playing styles and develop musical interpretation skills. Little Moth teaches harmonics. It is very easy yet it sounds quick. Moon Spinner has a moving left hand with parallel 6ths in the right hand. Grasshopper's Jig teaches accents, is excellent for quick eye-hand coordination and scales, yet is not difficult. Monarch Wings sounds grand and glorious with full double triads. Bumble's Boogie uses enharmonics for a wonderful buzzing effect, and teaches swing rhythm. Golden Swallowtail gives the left hand a great opportunity to facilitate grabbing treble clef notes, therefore assisting with the melody. Busy Bees is fast, easy and just great fun. Green Dragonfly incorporates PDLT, glissandos, accents, and left hand damping, and makes a wonderful recital piece. The pieces are in the key of C or sharp keys, with no fingerings. 15 pages.
Scroll down to see the list of contents below the videos.
Little Moth
Moonspinner
Grasshopper's Jig
Monarch Wings
Bumble's Boogie
Golden Swallowtail
Busy Bees
Green Dragonfly
Related Products
| | | |
| --- | --- | --- |
| $19.95 | $19.95 | |