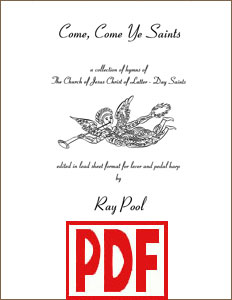 Come, Come Ye Saints by Ray Pool PDF Download
Item: p7846

This product is a download, and will not be shipped to you. After you check out, you will receive an email thanking you for your order from orders@harpcenter.com with the link(s) that will take you to your download(s). This e-mail will be sent to the "Ship To" email address that you specify during checkout, so be sure to input the correct "Ship To" e-mail address. Please add orders@harpcenter.com to your approved e-mail list. If you do not receive an e-mail within a few minutes after you place your order, please check your spam folder.
Please scroll to the bottom of the email to see the links to download. You can access your downloads by clicking here and entering your order number, email address, and billing zip code.
If you created an account with us, you can also find your downloads by going to "My Account" and clicking on the "Downloads" link.
Once you receive the e-mail, please click the link(s) and print your PDF(s) as soon as possible. The link(s) will expire after 30 days. If you are unable to print your PDFs during that time, please contact us and we will assist you. You are authorized to print 2 copies for your own personal use.
There will be no shipping charge if all of the items you are ordering are downloads. Just choose the "No Shipping Charge" option on the shipping dropdown list during checkout. If you order regular (non-downloaded) products at the same time, the shipping charges will be for those additional items.
Your respect of the copyright laws will help support the musicians and arrangers who created this work, and will encourage more harp music to be produced in the future. Please do not make multiple copies to pass on to others. You can help keep downloadable harp music viable and available by encouraging your students, friends and relatives to purchase their own copies. Thank you for your assistance in this endeavor.
If you have a problem with your download, please contact us at downloads@harpcenter.com for assistance. Please note that downloads are not "returnable."
This product is a PDF download, which you will print from your computer. We do not sell the regular printed music. It is only available here in this PDF download format.
For lever or pedal harp.
Ray pool has created this collection of 50 hymns of The Church Jesus Christ of Latter-Day Saints (Mormon faith) in lead sheet (fake book) format. The selections are taken directly from the collection printed in 1985 with the simple title "Hymns."
Each piece includes the melody line, chord symbols, indications for harmonic adjustments (lever or pedal changes), and the first verse of lyrics. There are no accompaniments or fingerings. The keys range from 4-flats through 2 sharps. Each piece is 1 to 2 pages. Ray has also included 14 pages of useful information on chords and how to play from a "lead sheet" or "fake book."
Here's more information from Ray about this collection.
1. Each entry is placed in one of three categories according to musical complexity. These categories follow a progressive order described in ten pages of musical examples. By following these simple models, playing from a fake book format should become a much more accessible skill for all harpists.
In Category 1, each melody note is either the root, third or fifth of a diatonic triad. On the dominant chord in the key signature there may be a fourth note -- the seventh. This is identified by a chord symbol such as "G7."
In Category 2, in addition to the chords mentioned above, there are also "non-harmonic" tones. They are identified as neighboring notes, passing tones and accented passing tones.
In Category 3, chords from outside the key signature are used. These are called a "secondary" or "borrowed" dominant.

2. Each entry is identified by its location in the original source "Hymns" (1985) by both page number and also the name of the tune (not just the first line of text).

3. The collection is edited for performance on both lever and pedal harp with clear indications for harmonic adjustments on each instrument. Only seven of the entries pose too many chromatic requirements to be practical for the lever harp. Otherwise, forty-three entries are playable on each type of harp, simultaneously.

4. Three separate "Table of Contents" listings organize the entries according to (A) First line of text (B) Level of difficulty (C) Key signature.

5. All entries are given in the original key signatures as they appear in "Hymns."

If you already play from a fake book, this will be a resource of immediate use to you. If you want to learn to play from a fake book, this is a great place to start.
This PDF is 80 pages long.
Click on the to see a sample of the first few lines of music.
Come, Come, Ye Saints
Come, Listen to a Prophet's Voice
Come, O Thou King of Kings
Come, Ye Children of the Lord
Come, Ye Disconsolate
Did You Think to Pray?
Far, Far Away on Judea's Plains
Father in Heaven
For the Beauty of the Earth
For the Strength of the Hills
God Be with You Till We Meet Again
God of Our Fathers, Whose Almighty Hand
God, Our Father, Hear Us Pray
He Is Risen!
High on the Mountain Top
How Firm a Foundation
How Gentle God's Commands
How Great the Wisdom and the Love
I Know That My Redeemer Lives
I Need Thee Every Hour
I Stand All Amazed
I'll Go Where You Want Me to Go
In Humility, Our Savior
In Hymns of Praise
Israel, Israel, God is Calling
Jesus, Once of Humble Birth
Jesus, Savior, Pilot Me
Jesus, the Very Thought of Thee
Joseph Smith's First Prayer
Joy to the World!
Lead, Kindly Light
Let Us All Press On
Now Let Us Rejoice
O Come, All Ye Faithful
O My Father
Praise God, from Whom All Blessings Flow
Put Your Shoulder to the Wheel
Redeemer of Israel
Rejoice, the Lord Is King!
Silent Night
Sweet Is the Work
The Lord Is My Shepherd
The Spirit of God
There Is a Green Hill Far Away
We Ever Pray for Thee
Zion Stands with Hills Surrounded