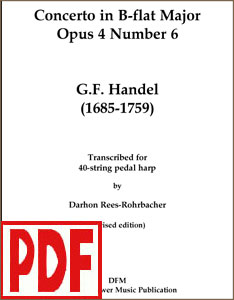 Handel's B-Flat Concerto arranged for PEDAL harp by Darhon Rees-Rohrbacher
Item: p7997

This product is a download, and will not be shipped to you. After you check out, you will receive an email thanking you for your order from orders@harpcenter.com with the link(s) that will take you to your download(s). This e-mail will be sent to the "Ship To" email address that you specify during checkout, so be sure to input the correct "Ship To" e-mail address. Please add orders@harpcenter.com to your approved e-mail list. If you do not receive an e-mail within a few minutes after you place your order, please check your spam folder.
Please scroll to the bottom of the email to see the links to download. You can access your downloads by clicking here and entering your order number, email address, and billing zip code.
If you created an account with us, you can also find your downloads by going to "My Account" and clicking on the "Downloads" link.
Once you receive the e-mail, please click the link(s) and print your PDF(s) as soon as possible. The link(s) will expire after 30 days. If you are unable to print your PDFs during that time, please contact us and we will assist you. You are authorized to print 2 copies for your own personal use.
There will be no shipping charge if all of the items you are ordering are downloads. Just choose the "No Shipping Charge" option on the shipping dropdown list during checkout. If you order regular (non-downloaded) products at the same time, the shipping charges will be for those additional items.
Your respect of the copyright laws will help support the musicians and arrangers who created this work, and will encourage more harp music to be produced in the future. Please do not make multiple copies to pass on to others. You can help keep downloadable harp music viable and available by encouraging your students, friends and relatives to purchase their own copies. Thank you for your assistance in this endeavor.
If you have a problem with your download, please contact us at downloads@harpcenter.com for assistance. Please note that downloads are not "returnable."
This product is a PDF download, which you will print from your computer. We do not sell the regular printed music. It is only available here in this PDF download format.
For PEDAL harp only.
Handel's B-flat Concerto is one of the best-known harp pieces. Darhon Rees-Rohrbacher started with the original manuscript, and made an arrangement for petite-size pedal harp that holds true to the spirit Handel originally intended. It is for upper intermediate to advanced pedal harpists, and can be played on the smaller 40-string pedal harps such as the Salvi Daphne and the L&H 85 Petite. Darhon has included performance notes and an explanation of the ornamentations used. Some fingerings are included. This is the 2015 revised version. This 21-page PDF includes 16 pages of music.
Here's what Darhon says about this arrangement in her introduction:
When Handel wrote his famous 1736 concerto for harp, two flutes, string ensemble and continuo, the result was a charming concerto of modest proportions. In fact, it was used as incidental music for the ode Alexander's Feast, later revised by Handel for other performances in 1739, 1742 and 1751. By modern standards, we would hardly consider his opus to be a virtuoso vehicle for the concert harp. Handel's notation appears rather "sparse" on the page compared with later transcriptions of the work.

The original Handel harp part resembled nothing like the rather grandiose transcriptions done by harp masters Carlos Salzedo and Marcel Grandjany. The triplestrung harps of Handel's day had a much smaller bass range than the modern concert harp and were more lightly strung, enabling the performer to "dance lightly" on the strings. With all respect to the genius of Messrs. Salzedo and Grandjany, certain aspects of their interpretations were heavily influenced by the greater range, string tension and technical capabilities of the late romantic double-action pedal harp. This instrument had not been invented by Handel's time.

In this transcription of Handel's famous harp concerto, I have attempted to capture the "spirit" of the original version. However, the chords have been filled out slightly, some tasteful ornamentation, passing tones, octave adjustments and harpistic flourishes have been added here and there. I have tried to maintain some of the customary inner voicing that has become traditional in the performance of this work. First and second ending indications have been added in order to facilitate page turns in some repeated sections.

It is not my intent to produce any sort of "historically accurate" document that rigidly adheres to the rules of Baroque counterpoint, even though numerous historical sources were consulted in the development of this transcription. Rather, I am providing a more "reasonable" solo version of this wonderful concerto that can be played on a small pedal harp similar in size to what was available in the late Baroque era. It is my hope that students, teachers, and Baroque lovers will enjoy this version.
This arrangement is for PEDAL harp. Click here for Darhon's LEVER harp version.
Click on the to see a sample of the first few lines of music.