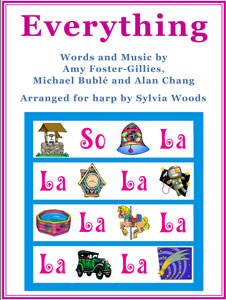 Everything by Michael Buble arranged for harp by Sylvia Woods sheet music
Item: 5964b

For lever or pedal harp.
Sylvia Woods has arranged this bouncy love song by Michael Bublé for intermediate harp players. It is in the key of G (1 sharp) and has some C# and D# lever changes. Fingerings, lyrics, lever and pedal changes, and chord symbols are included. 7 pages of music.
The harp range required is 24 strings (a little over 3 octaves), from a G up to a B.
---
Want it now? This music is also available as a PDF download.
---
Click on the to see a sample of the first few lines of music.