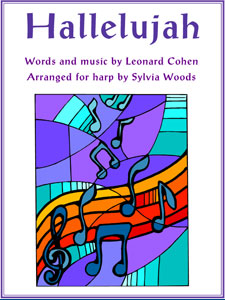 Hallelujah by Leonard Cohen sheet music arranged by Sylvia Woods
Item: 5585b

For lever or pedal harp.
Leonard Cohen's popular 1985 song Hallelujah has been recorded over 300 times. It gained a new generation of fans in 2001 when it was featured in the DreamWorks motion picture Shrek.
Sylvia Woods' 6-page arrangement of this classic song can be played by harpists of all levels. The first verse is easy, and each subsequent verse gets a bit more advanced. Beginners can play the first 1 or 2 verses, and more advanced players can continue on to the later verses. There are a total of 4 verses, and you may also repeat any verses that you'd like.
The music is in the key of C with chords, lyrics and fingerings. No lever changes are required.
The range needed for verses 1 to 3 are 20 strings, from a G up to an E. If you have a small harp with less than about 30 strings, you'll need to play the music an octave higher than written. Verse 4 requires an extra octave, with 27 strings from G up to E. The very last note also goes down to a lower C, but this can be left out if necessary.
---
Want it now? This music is also available as a PDF download.
---
Click on the to see a sample of the first few lines of music.