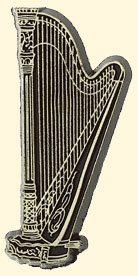 Harp Magnets
This 3" tall flexible black rubber magnet is in the shape of a pedal harp. The design is raised, and painted a silver-gray.

Let it brighten up your fridge, your locker, or your file cabinet to remind you to practice!

These magnets are great gifts for students, so you get a discount when you buy 6. It is like getting one free!