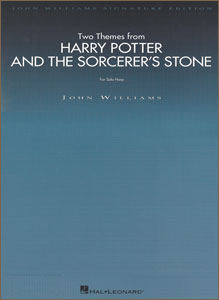 Harry Potter and the Sorcerer's Stone booklet - 2 pieces for pedal harp by John Williams
Item: 4925b

For PEDAL harp only.
This package includes 2 separate sheet musics of pieces from the movie Harry Potter and the Sorcerer's Stone: Fluffy's Harp and Hedwig's Theme. Each piece is 3 pages, and pedal changes are listed. The arrangements are for intermediate to advanced pedal harpists.
For PEDAL harp only.
Click on the to see a sample of the first few lines of music.