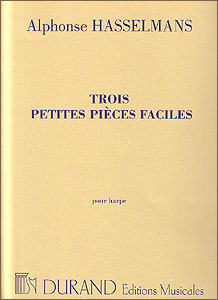 Trios Petites Pieces Faciles sheet music for pedal harp by Hasselmans
Item: 6529b

For PEDAL harp only.
Although these 3 Little Easy Pieces are considered "easy" pedal harp music, they sound impressive! Written by Alphonse Hasselmans, these pieces make a great transition into the pedal harp because the footwork is not too demanding and the sound is rewarding. Fingering included. 7 pages. Beginning to intermediate pedal harp level.

For PEDAL harp only.
This music can be played on a pedal harp with 40 or more strings, including 3/4-size pedal harps.
For PEDAL harp only.
Reverie
Rouet (Spinning-Wheel)
Ronde de Nuit (Round of Night)