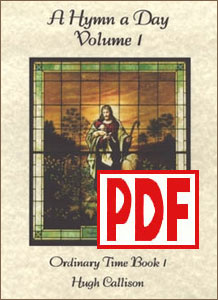 A Hymn a Day Volume 1 by Hugh Callison PDF Download
Item: p7991

This product is a download, and will not be shipped to you. After you check out, you will receive an email thanking you for your order from orders@harpcenter.com with the link(s) that will take you to your download(s). This e-mail will be sent to the "Ship To" email address that you specify during checkout, so be sure to input the correct "Ship To" e-mail address. Please add orders@harpcenter.com to your approved e-mail list. If you do not receive an e-mail within a few minutes after you place your order, please check your spam folder.
Please scroll to the bottom of the email to see the links to download. You can access your downloads by clicking here and entering your order number, email address, and billing zip code.
If you created an account with us, you can also find your downloads by going to "My Account" and clicking on the "Downloads" link.
Once you receive the e-mail, please click the link(s) and print your PDF(s) as soon as possible. The link(s) will expire after 30 days. If you are unable to print your PDFs during that time, please contact us and we will assist you. You are authorized to print 2 copies for your own personal use.
There will be no shipping charge if all of the items you are ordering are downloads. Just choose the "No Shipping Charge" option on the shipping dropdown list during checkout. If you order regular (non-downloaded) products at the same time, the shipping charges will be for those additional items.
Your respect of the copyright laws will help support the musicians and arrangers who created this work, and will encourage more harp music to be produced in the future. Please do not make multiple copies to pass on to others. You can help keep downloadable harp music viable and available by encouraging your students, friends and relatives to purchase their own copies. Thank you for your assistance in this endeavor.
If you have a problem with your download, please contact us at downloads@harpcenter.com for assistance. Please note that downloads are not "returnable."
This product is a PDF download, which you will print from your computer. We do not sell the regular printed music. It is only available here in this PDF download format.
For lever or pedal harp.
This is the first in a series of five volumes of hymn arrangements by Hugh Callison. You will find many wonderful titles that have not previously been arranged for harp, from well-known favorites that you grew up with, to songs that are lesser known yet equally important. These tunes have the added benefit of being arranged in keys (from 3 flats to 3 sharps) that are accessible to most vocal ranges, which is especially helpful when playing along with congregational singing. Hugh Callison came to the harp as an adult after retiring from 40 years as a music educator. His arrangements, for upper intermediate players, are interesting and have lovely harmonies. All have been edited for harpability and are playable on a harp with a full set of sharping levers which goes to the G which is one and ½ octaves below middle C (the bottom note of the bass clef staff). Lever changes are indicated with diamond shaped notes. Some tunes have no lever changes, some have a lot. Chord symbols are included, but no fingerings. The left hand in a few of the tunes is quite active. This is the one of a series of 5 books; an enormous amount of harp work.
This PDF is Volume 1: 72 tunes, 109 pages.
Here's what Hugh Callison has to say about this collection:
The hymn arrangements in this collection were inspired by a book titled The One Year Book of Hymns. This collection of texts is arranged in chronological order and features several verses of each hymn with a devotional reading and an accompanying scripture verse. After using this book as a devotional book, I decided in 2007 to arrange each of the 365 hymns for thirty-string lever harp. Welcome to my labor of love for God and for harpists who love the old hymns of faith!
Click on the to see a sample of the first few lines of music.
Battle Hymn of the Republic
Be Thou My Vision
Blessed Assurance
Blessed Be the Name
Blessed Quietness
Channels Only
Christ for the World We Sing
Close to Thee
Come Down, O Love Divine
Come, Gracious Spirit, Heavenly Dove
Come, Holy Ghost, Our Hearts Inspire
Come, Holy Ghost, Our Souls Inspire
Come, Holy Spirit, Dove Divine
Come, Holy Spirit, Heavenly Dove
Come, Let Us Rise with Christ
Come, We That Love the Lord
Crown Him with Many Crowns
Dear Lord and Father of Mankind
Depth of Mercy!
Fairest Lord Jesus
Faith of Our Fathers
For the Beauty of the Earth
Give of Your Best to the Master
God of Grace and God of Glory
God of Our Fathers
Grace Greater than Our Sin
Hallelujah, What a Savior!
Holy Ghost, with Light Divine
Holy God, We Praise Your Name
Holy Spirit, Truth Divine
Holy, Holy, Holy
How Great Thou Art
I Know That My Redeemer Lives
I Love to Tell the Story
I Surrender All
I Will Sing of My Redeemer
Immortal, Invisible, God Only Wise
Jesus Shall Reign
Just As I Am
Let Us Love, and Sing, and Wonder
Lord Jesus Christ, Be Present Now
My Faith Looks Up to Thee
O for a Closer Walk with God
O for a Thousand Tongues to Sing
O Jesus, I Have Promised
O My Soul, Bless God the Father
O Zion Haste
Onward Christian Soldiers
Praise Him! Praise Him!
Praise the Lord! O Heavens Adore Him
Prayer Is the Soul's Sincere Desire
Redeemed
Rejoice! Ye Pure in Heart
Rejoice, the Lord Is King!
Revive Us Again
Softly and Tenderly
Spirit of God, Descend upon My Heart
Stand Up, Stand Up for Jesus
Take Time to Be Holy
Teach Me, O Lord, Thy Holy Way
There Is a Fountain Filled with Blood
This Is My Father's World
Who Is on the Lord's Side
Related Products
| | | |
| --- | --- | --- |
| $25.00 | $19.95 | $25.00 |
| $25.00 | $19.95 | $25.00 |