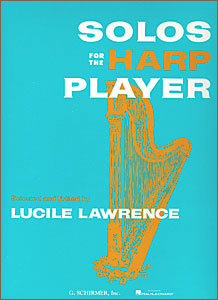 Solos for the Harp Player book for pedal harp by Lucile Lawrence
Item: 4139b

For PEDAL harp only.
Lucile Lawrence's treasured compilation of baroque, classical, folk, and romantic pieces is a collection of compositions and transcriptions for pedal harp. Most of the music was transcribed by Lawrence, Dewey Owens, or Carlos Salzedo. The book includes a handy glossary of the terms and symbols that are used, and has detailed pedal markings and fingerings throughout. 72 pages. Intermediate pedal harp level.
For PEDAL harp only.
Berceuse

(Flagello)

Chaconne

(Durand)

First Arabesque

(Debussy)

Fuga and Italian Pavane

(Cabezon)

5 Preludes

(Srebotnjak)

Gavotte and Giga

(Corelli)

Looking Glass River

(Forst)

Pavane

(16th century)

Rigaudon

(Rameau)

Sarabande from Sonata VII, Op. 5

(Corelli)

Siciliano from Sonata in E-flat for Flute and Cembalo

(Bach)

Tambourin

(Rameau)

Two Chinese Folk Songs

(Chou Wen-Chung)

Zarabanda from Partita in C

(Turina)