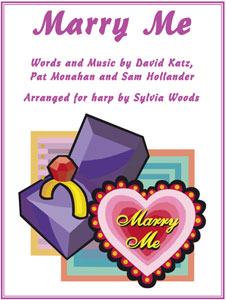 Marry Me by Pat Monahan of Train arranged for harp by Sylvia Woods sheet music
Item: 5961b

For lever or pedal harp.
Pat Monahan is the lead singer in the American group Train. Marry Me was released as a single in 2010 from their "Save Me, San Francisco" album. This lovely, rhythmic song is popular for weddings.

Sylvia Woods has made a 6-page arrangement for intermediate lever or pedal harp players. It is in the key of D (2 sharps), and there are two C-natural lever changes. Fingerings, lyrics, lever and pedal changes, and chord symbols are included.
The harp range required is 24 strings (a little over 3 octaves), from a G up to a B.
Here are Sylvia's favorite lyrics from this song:
You wear white and I'll wear out the words "I love you" and "you're beautiful."
The video below is the official Train video of this song. It begins with people talking about how they met, and then the music begins after about 45 seconds.
---
Want it now? This music is also available as a PDF download.
---
Click on the to see a sample of the first few lines of music.