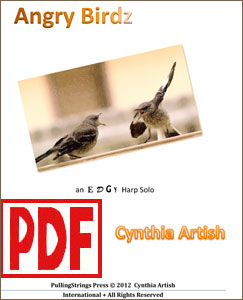 Angry Birdz by Cynthia Artish PDF Download
Item: p7023

This product is a download, and will not be shipped to you. After you check out, you will receive an email thanking you for your order from orders@harpcenter.com with the link(s) that will take you to your download(s). This e-mail will be sent to the "Ship To" email address that you specify during checkout, so be sure to input the correct "Ship To" e-mail address. Please add orders@harpcenter.com to your approved e-mail list. If you do not receive an e-mail within a few minutes after you place your order, please check your spam folder.
Please scroll to the bottom of the email to see the links to download. You can access your downloads by clicking here and entering your order number, email address, and billing zip code.
If you created an account with us, you can also find your downloads by going to "My Account" and clicking on the "Downloads" link.
Once you receive the e-mail, please click the link(s) and print your PDF(s) as soon as possible. The link(s) will expire after 30 days. If you are unable to print your PDFs during that time, please contact us and we will assist you. You are authorized to print 2 copies for your own personal use.
There will be no shipping charge if all of the items you are ordering are downloads. Just choose the "No Shipping Charge" option on the shipping dropdown list during checkout. If you order regular (non-downloaded) products at the same time, the shipping charges will be for those additional items.
Your respect of the copyright laws will help support the musicians and arrangers who created this work, and will encourage more harp music to be produced in the future. Please do not make multiple copies to pass on to others. You can help keep downloadable harp music viable and available by encouraging your students, friends and relatives to purchase their own copies. Thank you for your assistance in this endeavor.
If you have a problem with your download, please contact us at downloads@harpcenter.com for assistance. Please note that downloads are not "returnable."
This product is a PDF download, which you will print from your computer. We do not sell the regular printed music. It is only available here in this PDF download format.
For lever or pedal harp.
This quirky, whimsical solo harp piece by Cynthia Artish uses a buzzy special effect of twine threaded through the strings along with an "artistic tuning" to achieve an almost ghoulish atmosphere! Play differently and do the unexpected -- use Angry Birdz to spice up your repertoire and surprise your audience. Magical and menacing -- in a fun way!
Here's what the composer Cynthia Artish says about this fun piece.
"Angry Birdz" is a unique harp tune. It utilizes an effect where rough jute twine is woven throughout the stringcourse so to create a pizzicato (pinched) effect. The term for adding effects like this is called "prepared" - meaning something is done to the instrument to get a different sound. Our musical term is "prepared harp."
Rough jute twine works best because it won't slip down the strings. It can be purchased at art, craft, or hardware stores.
The music is 2 pages long, requires E-flats and A-flats, and has no lever changes within the music. Chord symbols are included, but no fingerings. This 6 page PDF also includes a 2 page explanation of how to prepare the harp, and options on playing the piece.
Click on the to see a sample of the first few lines of music.