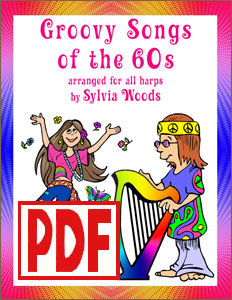 Groovy Songs of the 60s by Sylvia Woods PDF Download
Item: p5960a

This product is a download, and will not be shipped to you. After you check out, you will receive an email thanking you for your order from orders@harpcenter.com with the link(s) that will take you to your download(s). This e-mail will be sent to the "Ship To" email address that you specify during checkout, so be sure to input the correct "Ship To" e-mail address. Please add orders@harpcenter.com to your approved e-mail list. If you do not receive an e-mail within a few minutes after you place your order, please check your spam folder.
Please scroll to the bottom of the email to see the links to download. You can access your downloads by clicking here and entering your order number, email address, and billing zip code.
If you created an account with us, you can also find your downloads by going to "My Account" and clicking on the "Downloads" link.
Once you receive the e-mail, please click the link(s) and print your PDF(s) as soon as possible. The link(s) will expire after 30 days. If you are unable to print your PDFs during that time, please contact us and we will assist you. You are authorized to print 2 copies for your own personal use.
There will be no shipping charge if all of the items you are ordering are downloads. Just choose the "No Shipping Charge" option on the shipping dropdown list during checkout. If you order regular (non-downloaded) products at the same time, the shipping charges will be for those additional items.
Your respect of the copyright laws will help support the musicians and arrangers who created this work, and will encourage more harp music to be produced in the future. Please do not make multiple copies to pass on to others. You can help keep downloadable harp music viable and available by encouraging your students, friends and relatives to purchase their own copies. Thank you for your assistance in this endeavor.
If you have a problem with your download, please contact us at downloads@harpcenter.com for assistance. Please note that downloads are not "returnable."
This product is a PDF download of the printed music book Groovy Songs of the 60s arranged by Sylvia Woods.
For lever or pedal harp.
Feelin' groovy? Sylvia Woods' spiffy collection of 40 songs from the 1960s will inspire you to put on your embroidered bell-bottoms and wear some flowers in your hair. Some of the pieces can be played by beginning harp players, but most are at advanced beginner to intermediate levels. Fingerings, lyrics and chord symbols are included. Pieces are in C or sharp keys, and can be played on either lever or pedal harp. About half of the songs do not have any lever changes within the pieces. 96 pages, spiral-bound.
Includes TV and movie themes, and music by: Burt Bacharach and Hal David; Bob Dylan; Tony Hatch; Justin Hayward; Mick Jagger and Keith Richards; Gerard Marsden; John Phillips; Nino Rota; John Sebastian; Paul Simon; Jerry Jeff Walker; Brian Wilson; and more.
Includes songs made popular by: The Animals; The Association; The Beach Boys; Jimmy Clanton; Petula Clark; Judy Collins; Donovan; Bob Dylan; The Fifth Dimension; Jerry and the Pacemakers; The Lovin' Spoonful; Joni Mitchell; The Moody Blues; The Nitty Gritty Dirt Band; Peter, Paul and Mary; Elvis Presley; The Rolling Stones; Simon and Garfunkel; The Turtles; Dionn Warwick; The Youngbloods; and others.
Click on the to see a sample of the first few lines of music.
Related Products