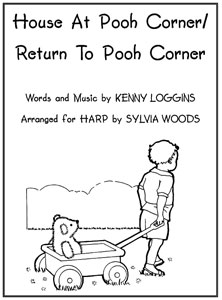 House at Pooh Corner / Return to Pooh Corner sheet music by Sylvia Woods
Item: 5571b

For lever or pedal harp.
Kenny Loggins' House At Pooh Corner was a big hit for Loggins and Messina in the 1970's. In 1993 Kenny wrote an additional verse for his son, and re-released the song as Return to Pooh Corner on his best-selling recording of kids' songs. Sylvia Woods has arranged the sheet music for this fanciful song so that it can be played (and sung) in either version. The music is in the key of G (1 sharp) with no lever or pedal changes, and includes fingerings, chord symbols, and lyrics. 4 pages of music for advanced beginners or intermediate harp players.
The chorus is: Help me if you can I've got to get back to the House at Pooh Corner by one.
You'd be surprised there's so much to be done: count all the bees in the hive, chase all the clouds from the sky.
Back to the days of Christopher Robin and Pooh.
The second video shows Loggins and Messina singing the original version of this song.
---
Want it now? This music is also available as a PDF download.
---
Click on the to see a sample of the first few lines of music.
Related Products
| | | |
| --- | --- | --- |
| $6.95 | | |