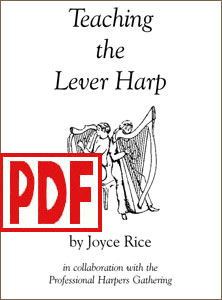 Teaching the Lever Harp by Joyce Rice PDF Download
Item: p7595
This product is a download, and will not be shipped to you. After you check out, you will receive an email thanking you for your order from orders@harpcenter.com with the link(s) that will take you to your download(s). This e-mail will be sent to the "Ship To" email address that you specify during checkout, so be sure to input the correct "Ship To" e-mail address. Please add orders@harpcenter.com to your approved e-mail list. If you do not receive an e-mail within a few minutes after you place your order, please check your spam folder.
Please scroll to the bottom of the email to see the links to download. You can access your downloads by clicking here and entering your order number, email address, and billing zip code.
If you created an account with us, you can also find your downloads by going to "My Account" and clicking on the "Downloads" link.
Once you receive the e-mail, please click the link(s) and print your PDF(s) as soon as possible. The link(s) will expire after 30 days. If you are unable to print your PDFs during that time, please contact us and we will assist you. You are authorized to print 2 copies for your own personal use.
There will be no shipping charge if all of the items you are ordering are downloads. Just choose the "No Shipping Charge" option on the shipping dropdown list during checkout. If you order regular (non-downloaded) products at the same time, the shipping charges will be for those additional items.
Your respect of the copyright laws will help support the musicians and arrangers who created this work, and will encourage more harp music to be produced in the future. Please do not make multiple copies to pass on to others. You can help keep downloadable harp music viable and available by encouraging your students, friends and relatives to purchase their own copies. Thank you for your assistance in this endeavor.
If you have a problem with your download, please contact us at downloads@harpcenter.com for assistance. Please note that downloads are not "returnable."
This product is a PDF download, which you will print from your computer. We do not sell the regular printed book. It is only available here in this PDF download format.
This wonderful book is intended for people wishing to teach folk harp, but it also contains a wealth of useful information which will be of interest to virtually any harp player. Joyce Rice gives excellent step-by-step instructions and ideas regarding the business end of being a teacher (attracting students, what teachers should expect from their students and vice versa, keeping track of attendance, etc.) and then guides you through all the intricacies involved in teaching someone to play the harp.
This book is a compilation of ideas, suggestions, and helpful hints from experienced harp teachers. Contributors to this book included Stephanie Curcio, Sue Richards, Kim Robertson, Ellen Tepper, Derek Bell, Liz Cifani, Wendy Kerner Lucas, Louise Trotter, and many more. It was compiled at the Professional Harpers Gathering on the East Coast in the early 1990's. Sixteen chapters, well over 100 pages on standard sized paper! Includes a complete index. This is an excellent resource for any teacher of harp.
Table of Contents:
On Being a Teacher
Practical Ideas for the Business of Teaching
The First Lesson
Group Lessons
Tuning
Relaxation
Theory
Practicing
Sightreading
Memorization
Musicality
Choosing Repertoire
Playing by Ear, Improvising, Sessions
Accompanying and Arranging
Orchestral Playing
Becoming a Confident Performer
Stage Deportment