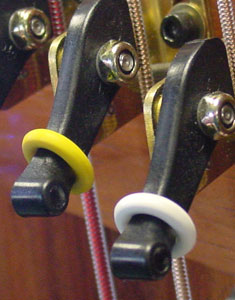 White and Yellow Rubber Accidental Rings
Do you have trouble seeing (or remembering!) the sharping levers you need to engage in the middle of a piece? If so, you'll love our new white and yellow Accidental Rings. Take the anxiety out of flipping levers on the fly. Just slip these bright rings on the appropriate lever handles before you begin to play a piece, to give you a visual reminder of which ones you'll need to change. Because they are slightly larger in diameter than our other rings, you can easily install and remove them between pieces. You can even put them on a lever that already has a red, blue, or black ring! Designed for use on Loveland levers, they are also great for Performance, Triplett, and the larger Camac levers. They will work on Truitt and small Camac levers, although the rings tend to slide up and down the shaft as you raise and lower these levers.
Each pack comes with 10 rings: 5 white and 5 bright yellow.
White ring on Loveland lever
with red ring already installed

Rings on
Performance Levers

Ring on older
Triplett Lever
Related Products
| | | |
| --- | --- | --- |
| | $18.45 | |