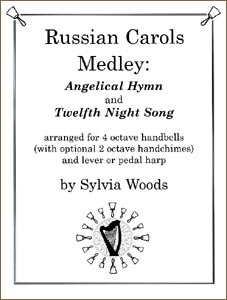 Russian Carols Medley arranged for harp and handbells by Sylvia Woods
Item: 5602b

For lever or pedal harp.
for 4 octave handbells and harp (with optional 2 octaves of handchimes)
This medley combines 2 traditional Russian carols: Angelical Hymn and Twelfth Night Song. The harp needs to have a range that includes the G that is 10 strings below middle C. 4 octaves of handbells are required. 2 octaves of handchimes are optional, and can be played by less advanced players. Total number of bells used is 22, with optional 13 handchimes. For intermediate harp players, and level 3 bell choir. 7 pages of music in the key of G.
As a member of her church handbell choir, Sylvia Woods began arranging music for lever (or pedal) harp and handbells. These wonderful arrangements beautifully showcase the harp with bells. If your church or school has a set of handbells, give these arrangements a try. As with all handbell or choir music, you will need to buy individual copies for each member of the handbell choir, the director, and the harpist.
This music is now being distributed by Jeffers Handbell Supply. If you'd like to order multiple copies for your bell choir, please order through their www.handbellworld.com website. Their stock number for this piece is MWD093666147X.
Click on the to see a sample of the first few lines of music.
Related Products
| | | |
| --- | --- | --- |
| $4.95 | $3.50 | |