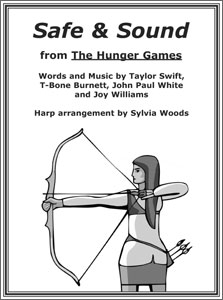 Safe & Sound sheet music from The Hunger Games by Sylvia Woods
Item: 5574b

For lever or pedal harp.
Safe & Sound is a beautiful lullaby sung by Taylor Swift in The Hunger Games movie. It was written by Taylor Swift along with T-Bone Burnett, John Paul White, and Joy Williams. Sylvia's 4-page arrangement for advanced beginners is in the key of G with fingerings and lyrics. There are no lever changes. It can be played on 26-string harps, such as the Harpsicle, if you play everything an octave higher than written.
---
Want it now? This music is also available as a PDF download.
---
Click on the to see a sample of the first few lines of music.
Related Products
| | | |
| --- | --- | --- |
| $7.95 | | |