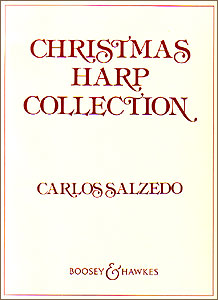 Christmas Harp Collection book for pedal harp by Carlos Salzedo
Item: 6598b


For PEDAL harp only.
These Christmas favorites were arranged by Carlos Salzedo in 1954. They are more complex than most pedal harp Christmas arrangements because of the length and involvement of accompaniment in both hands. They make great holiday recital pieces. Fingerings and pedals marked. 35 pages.
For PEDAL harp only.
Short Fantasy on a Noel Provencal
Short Fantasy on a Neapolitan Carol
Short Fantasy on a Catalan Carol
Short Fantasy on a Basque Carol
Concert Variations on Deck the Halls
Concert Variations on Good King Wenceslas
Concert Variations on O Tannenbaum
Paraphrase on It Came Upon the Midnight Clear
Paraphrase on Angels we have Heard on High
Paraphrase on Greensleeves
Paraphrase on O Little Town of Bethlehem
Paraphrase on We Three Kings of Orient Are.