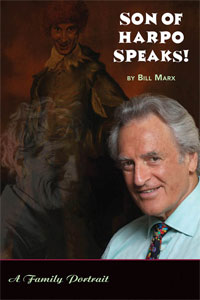 Son of Harpo Speaks! book by Bill Marx
In this charming, warmhearted memoir, Bill Marx shares what it was like growing up as the adpoted son of Harpo Marx. At age 16, Bill became the musical conductor and arranger for his father. In this book he documents both his working and creative relationship with Harpo, as well as their father-son bond. He describes growing up in an orbit of many talented creative actors, producers, musicians and artists. This is the sequel to his father's autobiography, Harpo Speaks!. 328 pages, paperbound, 6" x 9", with lots of wonderful black and white photos.
Bill Marx is the last living person to have worked professionally with the three Marx Brothers, his uncles Chico and Groucho and his father, Harpo Marx. Because Chico and Groucho had siblings that had written about them, Bill Marx wanted to complete the Marx Brothers' literary trifecta by authoring a book about the personal and professional relationships that he had with his father.
Related Products
| | | |
| --- | --- | --- |
| $22.00 | | |