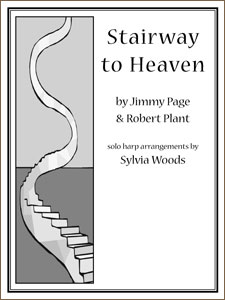 Stairway to Heaven sheet music by Sylvia Woods
Item: 5573b

For lever or pedal harp.
Stairway to Heaven written by Jimmy Page and Robert Plant of Led Zeppelin, is one of the most requested songs on the harp! Sylvia Woods has created 2 amazing arrangements of this rock classic which are playable on either lever or pedal harp. She has kept the signature bass line, and all of the varied sections of this piece, but with a minimum of lever changes! In fact, the easy version has NO lever changes, and the intermediate version has only three!

This sheet music includes both the easy and the intermediate arrangements. Fingerings and chord symbols are included in both versions.

The easy 3-page arrangement requires no lever changes, but you'll need to sharp some of the F and G strings before you begin playing. If your harp doesn't have these levers, you can tune the 3 required strings to sharps. If you play a small harp with at least 24 strings and 1 octave below middle C, play the entire piece an octave higher than written, and it will fit on your harp.

The 5-page intermediate version requires a harp with 2 octaves below middle C, and sharping levers on the F and G strings. Pedal changes and the 3 sharping lever changes are notated in the music. Sylvia has included instructions and exercises for learning to play the muffling techniques used in this arrangement.

With Sylvia's sheet music arrangement (and a little practice), the next time someone asks "Can you play Stairway to Heaven," you can say "YES!!!"
---
Want it now? This music is also available as a PDF download.
---
Click on the to see a sample of the first few lines of music.
Related Products
| | | |
| --- | --- | --- |
| $7.95 | | |