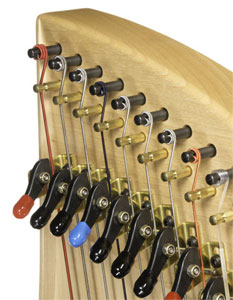 Lever Caps for Loveland Levers
Playing harp in low-light situations can make it tough to see the levers. The Color Rings help, but not always enough. Now, here's a durable and effective solution. Pressing on a set of Lever Caps will make any size of Loveland lever quick and easy to find and flip.
Make your Loveland levers easier to see, more comfy to grip and faster to flip!

Custom made in red, blue and black, these small vinyl caps are designed to press over the ends of the Loveland lever handles. The red and blue caps clearly mark your C and F strings and provide a strong visual reference that can be a real help in low-light situations. The black caps cover the rest of the levers for a consistent look and feel. Lever caps also give the levers a softer, "grippier" feel.

Each package contains 33 black, 8 red and 8 blue caps - enough for a 40-string harp, plus a few extras. These caps fit on all types of Loveland levers, including the new levers with the wider handles*. Easy installation instructions included.
*PLEASE NOTE: For harps with newer-style Loveland levers (the new style has oblong red and blue dots instead of round), the caps are a very tight fit. It is possible to get them on and they will be very secure once they're installed, but be prepared for a struggle! You will need to warm up the caps (you can use hot water, a hair dryer or a lamp) to make them pliable enough to fit over the levers.
These caps are designed for Loveland levers only. They are not meant for other makes of sharping levers.
Related Products
| | | |
| --- | --- | --- |
| $8.25 | | |