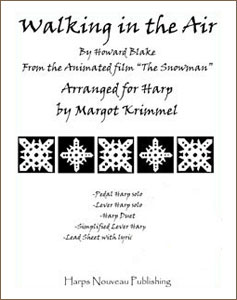 Walking In The Air book from The Snowman by Krimmel
Item: h7016b

For lever or pedal harp.
Howard Blake composed this ethereal song for the beloved animated film "The Snowman" in 1982. Margot Krimmel has arranged three harp solos (simplified, lever, and pedal) and a duet version in this book. The 2-page simplified version is for 26-string harps, and has no lever changes. The other solos for larger harps are 3 pages each with extensive lever/pedal changes. In the key of E-minor, with chord symbols and no fingerings. A lead sheet with lyrics is included. 19 pages spiral-bound.
The video is from The Snowman movie.