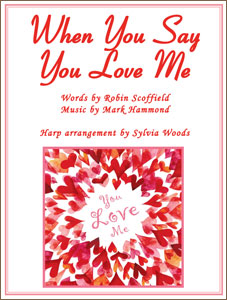 When You Say You Love Me arranged for harp by Sylvia Woods Sheet Music
Item: 5967b

For lever or pedal harp.
The beautiful song When You Say You Love Me was made popular by Josh Groban. It was composed by Mark Hammond, with lyrics by Robin Scoffield. It is perfect for weddings, and any romantic occasion.
Sylvia Woods' arrangement is for intermediate players. It is in the key of G (1 sharp) and there are eight C# and D# lever changes within the music. Lyrics, fingerings, and chords included. The range needed is 25 strings from G up to C. 6 pages of music.
Like the sound of silence calling,
I hear your voice and suddenly I'm falling,
Lost in a dream.
Like the echo of our sols are meeting,
You say those words, my heart stops beating.
I wonder what it means.
What could it be that comes over me?
At times I can't move, at time I can hardly breathe.
When you say you love me,
The world goes still, so still inside.
And when you say you love me,
for a moment, there's no one else alive.
---
Want it now? This music is also available as a PDF download.
---
Click on the to see a sample of the first few lines of music.
Related Products
| | | |
| --- | --- | --- |
| $7.95 | | |