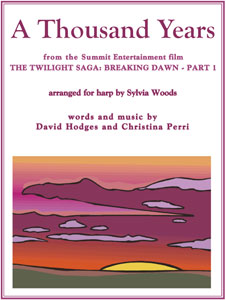 A Thousand Years sheet music arranged by Sylvia Woods
Item: 5582b

For lever or pedal harp.
The romantic ballad A Thousand Years was first used during the credits of The Twilight Saga: Breaking Dawn - Part 1 film, and was included in the original motion picture soundtrack. It was composed by Christina Perri and David Hodges. Fans of the Twilight series have made it the unofficial theme song for the romance between the characters of Bella and Edward. It is currently a popular song for weddings.
Sylvia Woods' 6-page harp arrangement is in the key of C. No sharping levers are needed, as there are no lever changes required in the music. It is playable on lever or pedal harp, and is for advanced beginner to intermediate players. Fingerings, lyrics and chord symbols are included.
The range required for this piece is 22 strings from F to F. If your small harp has four F strings, you can play the music an octave higher than written.
---
Want it now? This music is also available as a PDF download.
---
Click on the to see a sample of the first few lines of music.
Related Products
| | | |
| --- | --- | --- |
| $7.95 | | |