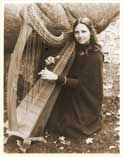 COVID-19 UPDATE
I am still shipping almost all of the products on my site to customers daily. So, you can order with confidence. If, by chance, there will be a delay, I will email you right away. If you have any questions, please email sylvia@harpcenter.com. Aloha.
My name is Sylvia Woods, and I would like to welcome you to the Sylvia Woods Harp Center.
I specialize in the harp, and I help people of all ages fulfill their dreams of owning and playing one of these beautiful, spiritual, and magical string instruments. You, too, can learn to play the harp!
I have been in business for over 40 years, and have been instrumental in the growth of interest in the harp. I have sold high-quality harps to thousands of happy customers. Tens of thousands of people (many with no previous musical training) have learned to play the harp using my best-selling book Teach Yourself to Play the Folk Harp.
In the November/December 1999 issue of The Harp Column magazine, I was named one of the 45 "Most Influential Harp Forces of the 20th Century". And, in 2015 I received the coveted Lifetime Achievement Award from the Somerset Folk Harp Festival for my contributions to the harp world.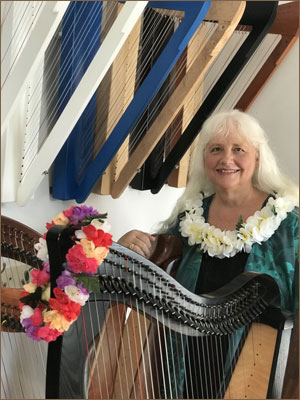 In 2013, I moved myself and my business to the Hawaiian island of Kauai. If you're going to be on Kauai, please email me or call 808-212-9525 to make an appointment. I love it when harpists come to rent a harp to play while vacationing here, or take a lesson, or just to say "hi."
I am well-known for my harp music arrangements. I have written over 25 books and 55 pieces of sheet music for the harp. These are all available on this website as printed music or as convenient PDF downloads. I also carry a wide variety of harp music by other composers and arrangers to fit every taste: classical, Celtic, folk, jazz, pop, Christian, Christmas, Jewish, and more. I am very selective in all the products that I sell: I only sell what I feel is the VERY BEST.
I know that buying a harp can be an overwhelming and daunting experience. No matter where you live, I am happy to help you purchase your harp. Call or email, and I'll personally lead you, step by step, through all the options and decisions you'll need to make. I offer a wonderful selection of high-quality American-made Celtic and folk harps by Dusty Strings Harps and the Harpsicle Harp Company. Buying a harp from The Sylvia Woods Harp Center is FUN and will lead to a lifetime of musical enjoyment.
Thank you for allowing me to help you throughout your harp journey!
Sylvia Woods
Audio clip: Adobe Flash Player (version 9 or above) is required to play this audio clip. Download the latest version here. You also need to have JavaScript enabled in your browser.