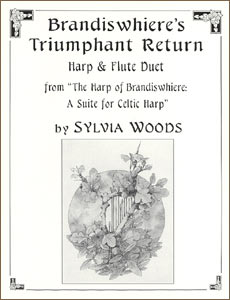 Brandiswhiere's Triumphant Return sheet music for harp and flute
Item: 5214b

For lever or pedal harp.
Sylvia Woods has arranged this piece from Harp of Brandiswhiere for harp and flute, in arrangements similar to those on her CD of the suite. It is in the tuning of 1 sharp, with no lever or pedal changes. Fingerings are included. The booklet includes the 8-page harp and flute score, and 2 pages that can be photocopied for the flute player.
In the Forest from this suite is also available in a flute and harp arrangement.
---
Want it now? This music is also available as a PDF download.
---
Click on the to see a sample of the first few lines of music.
Related Products