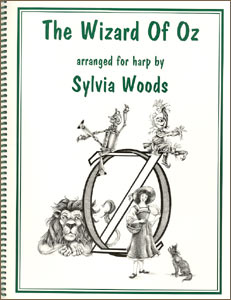 The Wizard of Oz book by Sylvia Woods
Item: 5802b

For lever or pedal harp.
This delightful book of the music from The Wizard of Oz movie is designed for advanced beginners and intermediate harp players, and can be played on either a lever or a pedal harp. Some of the pieces have accidentals, and sharping lever and pedal changes are indicated. The lyrics are printed in the music, so you can sing along as you play! Fingerings are also included. Some of the pieces have separate arrangements for pedal and lever harps, and a few have both easy and advanced versions. 48 pages, spiral-bound.
Sylvia Woods has written an article about The Wizard of Oz movie, including little-known facts, and a fun trivia quiz. You'll find this article in the "Fun Stuff" section of this web site.
---
Want it now? This music is also available as a PDF download.
---
Click on the to see a sample of the first few lines of music.
Related Products