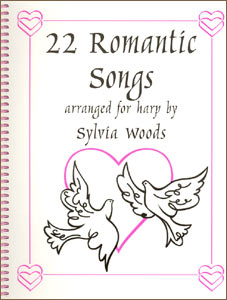 22 Romantic Songs book by Sylvia Woods
Item: 5822b

For lever or pedal harp.
This book by Sylvia Woods includes 22 of the most popular romantic songs for weddings, anniversaries, parties and other special occasions. Advanced beginners will be able to play the pieces at the front of the book that have no (or just a few) lever changes. The songs near the back of the book are more difficult, with a greater number of lever changes. Lyrics, fingerings, chord symbols, and lever and pedal changes are included in each song. All of the pieces can be played on pedal harps, and on lever harps tuned to the key of C or up to 3 flats. 80 pages, spiral-bound.
---
Want it now? This music is also available as a PDF download.
---
Click on the to see a sample of the first few lines of music.
Related Products
| | | |
| --- | --- | --- |
| $24.95 | | |